2014 Class Schedule
Your session runs for approximately 45-60 minutes. Make sure you check the Main Page before you come in case there are any special requirements for your session (for example, we'll warn you ahead of time if you need long pants for rope climbs etc.).
Visiting CrossFitters
You must be a member of another interstate/overseas affiliate with a min of 3 months experience. Visiting CrossFitters must email us at info@crossfit3000.com to book in their session – we do not take walk ins or phone bookings.
$25 per session (cash only). We welcome visitors to only the 12:30pm class on weekdays (no weekend classes).
2014 Christmas Holiday Timetable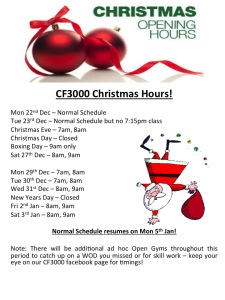 Class Schedule
Please wait a moment whilst it loads…
You can click on "Week" in the top right hand corner to see just the schedule for the week. Change the date via the top right hand corner.
* Olympic Weightlifting – this class is not for beginners. Min of 3 months CrossFit experience needed and is suitable for the intermediate to advanced lifter.
* Comp Prep Training – entry test is required prior to participating in this class. For those who would like to treat CrossFit as a competitive sport and represent CrossFit 3000.